Redundancy: it's a situation you never thought you'd face, yet living in unprecedented times leads to circumstances you could not have previously imagined. While being made redundant may feel like a blow to your ego, it's important to remember that it's the job being made redundant. Economies ebb and flow and so does the job market. As the old saying goes, when one door closes; another opens. In fact, in the future, you may look on the day you were made redundant as the day you started to forge your own path.
It's all well and good talking about the future, but even with the promise that things will get better, the sting of redundancy hurts. And it hurts NOW. Below are some immediate steps you can take to ease your transition from your old road to your new path.
Go easy on yourself! Familiarise yourself with the Kübler-Ross change curve (pictured below). That "sting" you're feeling? It's most likely shock and it's completely normal to feel that way. Being aware of your feelings during this time will help you keep a clear head. If you can predict your reactions to this big change in your life, you'll be able to adapt more easily.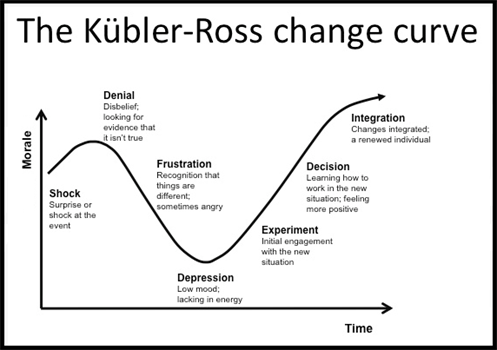 Use this as an opportunity for training and personal development. Are you interested in a different industry than the one you recently left? Perhaps you were in the same role for a long period and want to study up on advances in that area. Going forward, you don't want to settle for just being competent in your career; you will want to excel in it. Actively pursuing training and development ensures that your knowledge and skills are always relevant. There are many courses available online and across Ireland to brush up on your skills and indeed learn new ones.
Take up a new hobby so work doesn't define you, or perhaps revisit an old hobby. Our time in lockdown reminded us that having a well-rounded life is important and a real boost to our mental health. In the same vein as personal development, there are courses for a range of hobbies available online. Lose yourself in the latest best-seller; dust off the acoustic guitar; learn a few phrases in a foreign language. Remember that you are more than your job and taking time for yourself to enjoy your favourite pastime is time well spent.

Work on your narrative. You want to forge your own path? Then you need to start by telling your story in your own words. Before long, you will be interviewing for a new job and you will want to be able to showcase what you enjoyed in your last role, what you learned in your last role, and what you want now. Beyond traditional interviewing, you will also want to take advantage of your own personal network. Does your best friend's brother work at your dream company? Take this time to perfect your "elevator pitch". Before you can get what you want, you need to know how to ask for what you want.
Take control. Create an action plan and set goals. Update your CV. Decide on how many job applications you will send per day and make sure you send them. Check in with 3 new contacts per week. Keep on top of your LinkedIn profile. Has your old company included an outplacement service with your redundancy package? Take advantage of that service. Be proactive and work with your outplacement co-ordinator.

One day soon, you're going to look back on this period of your life and be so glad that you never gave up. You may be in a new job or a different career altogether and realise that, while redundancy is a difficult thing to face, this was a turning point in your life. It forced you to take stock of who you are and build a version of yourself based on your own personal values. Change, while unnerving, is an invitation to opportunity. Before today, you were sitting in the passenger's seat, being driven down a road you were familiar with, but it wasn't a route of your choosing. Take this time to identify your values, take the wheel, and forge your own path.
https://www.recruitmentplus.ie/wp-content/uploads/2020/09/blog-30.09.20.png
423
1160
RecruitmentPlus
https://www.recruitmentplus.ie/wp-content/uploads/2019/08/whitelogo-300x144.png
RecruitmentPlus
2020-09-30 10:38:07
2020-09-30 10:40:17
Rethinking Redundancy